Dr. Horst Gorski
Leiter der Amtes der VELKD und Vizepräsident im Kirchenamt der EKD / Head of the office of the VELKD, Vice President of the office of the EKD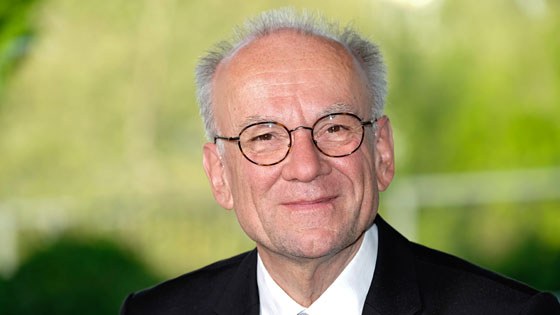 (DE siehe unten)
Making music is a behaviour with transcendent tendencies. Musicians go beyond themselves, beyond the visible and the audible, and come to a glimpse of what life could be: Larger, more beautiful, more human than everyday life. Making music is ecstasy, going out of oneself, but it is also introspection, seeing and hearing.
In music-making, the body, soul and mind create with the order of sounds the realization that the world is ultimately all right. For the cosmos of sounds is order and beauty. Music gives life and rhythm and form. But then there are the "blue notes". They are used in in jazz and blues. They are out of order. There are "inter-tones" between the halftones of the chromatic scale , which is customary in Europe. They break the order, they squeal and crunch. Many people feel that they sound melancholic. One can hear in them the "groaning of  creation" of which Paul writes. When the third is heard between minor and major, it is neither exactly. It is questionable whether the world is in order. "Blue" seems to be the colour of the "in between". The "Blue Hour" is the hour between day and night, the hour of dawn, when the blue sky becomes even more blue in a very particular way. On "Blue Monday" only half of the day was used for labour. Now it is used to mean an unauthorized day, somewhere in between a free day and a workday.
"Blue Church" - these are the services of "blue notes", of jazz and blues. These will be mostly worship services at the "blue hour", in the evening. Worship services that fall out of the ordinary, that break the order and break with tradition. Jazz lives from the balance of order and improvisation. Without the order of the beat and harmonic sequence, the collective music making would fall apart. Without improvisation, a spirit of spontaneity, ecstasy and introspection would be missing. One does not have to exaggerate the interpretation, but it could be said: On the cross of Jesus Christ the order of this world broke. This fragility forms the "blue notes" and the "Blue Church".
It is questionable whether our world is in order. The reasons that raise this question are falling in front of our feet and across our screens into our living rooms. It is right to celebrate worship services that illustrate this condition. They will have their fans - I hope so! - but they will also provoke. They should! Maybe we will have to protect them from those who prefer the usual order. But they will also protect us with their spirit. They will protect us from the illusion that the world is all right.
Making music is a behaviour with transcendent tendencies. In "Blue Church" services, people will go beyond and into themselves. In music, the children of God cry for the presence of their salvation. And so it should be. I wish this experience and many more blessings for all who perform, celebrate, sing, speak, listen and pray in the "Blue Church"!
Hannover, im Dezember 2017
Musizieren ist ein Verhalten mit transzendenter Tendenz. Wer musiziert geht über sich hinaus, über das Sichtbare, auch über das Hörbare und rührt an eine Ahnung, was das Leben sein könnte. Größer, schöner, menschlicher als der Alltag. Musizieren ist Ekstase, aus sich herausgehen, aber auch Introspektion, in sich hineinsehen und hören.
Im Musizieren gestalten Körper, Seele und Geist in der Ordnung der Töne die Einsicht, dass die Welt letztlich in Ordnung ist.2 Denn der Kosmos der Töne ist Ordnung und Schönheit. Musik gibt dem Leben und Rhythmus und Halt. Doch dann sind da die "blue notes", "blauen Noten". Sie werden im Jazz und Blues verwendet. Sie fallen aus der Ordnung. Es sind "Zwischentöne" zwischen den Halbtönen der in Europa üblichen Zwölftonreihe. Sie sprengen die Ordnung, quietschen, knirschen. Viele empfinden es so, dass sie melancholisch klingen. Man kann darin das "Seufzen der Kreatur" hören, von dem Paulus schreibt. Wenn die Terz zwischen Klein und Groß erklingt, ist es weder Moll noch Dur. Da wird fraglich, ob die Welt in Ordnung ist. "Blau" scheint in unserem Sprachgebrauch die Farbe des "Dazwischen" zu sein. Die "Blaue Stunde" ist die Stunde zwischen Tag und Nacht, wenn es dämmert und der sowieso blaue Himmel auf ganz eigentümliche Weise noch blauer wird. Der "Blaue Montag" war ein Tag, an dem nur halb gearbeitet wurde. Jetzt ist es im Sprachgebrauch ein unerlaubt frei genommener Tag, auch irgendwie dazwischen, zwischen wirklich frei haben und arbeiten.
"Blue Church" – das sind Gottesdienste, in denen "blaue Noten" erklingen, Jazz und Blues. Es werden überwiegend Gottesdienste zur "blauen Stunde" sein, am Abend also. Gottesdienste die aus dem Rahmen des Üblichen fallen, die Ordnung sprengen, quietschen, knirschen. Jazz lebt von der Balance aus Ordnung und Improvisation. Ohne Ordnung des Taktes und der Harmoniefolge würde das gemeinsame Musizieren auseinanderfallen. Ohne Improvisation fehlten spontaner Geist, Ekstase und Introspektion. Man muss die Deutung nicht übertreiben, aber wenn man will, kann man sagen: Am Kreuz Jesu Christi zerbrach die Ordnung dieser Welt. Diese Zerbrechlichkeit bildet sich ab in den "blue notes" und der "Blue Church".
Es ist fraglich, ob unsere Welt in Ordnung ist. Die Gründe, die diese Frage aufwerfen, fallen uns vor unsere Füße und über den Bildschirm ins Wohnzimmer. Da ist es richtig, Gottesdienste zu feiern, die diese Fraglichkeit abbilden. Sie werden ihre Fans haben – das hoffe ich! – sie werden aber auch anecken. Das sollen sie! Vielleicht werden wir sie zu beschützen haben vor denen, die die gewohnte Ordnung vermissen. Aber sie werden auch uns beschützen, mit ihrem Geist. Beschützen vor der Illusion, die Welt sei in Ordnung. Musizieren ist ein Verhalten mit transzendenter Tendenz. In den Gottesdiensten der "Blue Church" werden Menschen über sich hinausgehen und in sich hinein. In der Musik rufen die Kinder Gottes nach der Gegenwart ihres Heils. So sei es. Diese Erfahrungen und noch viel mehr Segen wünsche ich allen, die in der "Blue Church" musizieren, feiern, singen, sprechen, hören und beten!
Hannover, im Dezember 2017